Our names are Adrienne Grace and Tony Pinto, and we lead the Vim & Vigor team. We are a strategic branding and design firm, based in Orange County, CA. Whether it's helping develop an entire brand from the ground up or adding new pieces within an existing brand, we design amazing, strategic creative for our clients. We often work with associates that we bring in for specific projects as needed.
In addition to being designers, we've been told we're smart, funny, honest people who are easy to work with (our clients are very smart!). We also happen to be married, which means we discuss fun stuff like branding, user interface, and typography over dinner. Let's talk about what V&V can do for you.
Adrienne Grace
I'm an art director/designer and account director, plus I have extensive experience as a photo stylist and photo art director, for a total of 20 years in the creative field. I've worked in-house for Macy's, Illuminations, and Smith+Noble, as well as freelance for Office Depot, Stylecraft (Asics), and Princess Cruises.
My background features retail and business communications, including web design, magazines, catalogs, and direct mail.
I have an MA in graphic design from Savannah College of Art and Design. I'm a member of the Orange County AIGA, as well as the Orange County chapter of Connected Women of Influence, the Irvine Chamber of Commerce, and the UCLA Alumni Association.
Tony Pinto
I'm an art director/designer with over 20 years of professional experience. I've worked for Grey Advertising, Lois/EJL, Ayzenberg Group, and Walt Disney Company, and have completed projects for companies and organizations in almost every business sector.
My experience encompasses retail and business communications, including web design, magazine and publication design, advertising (print and broadcast), packaging, and direct mail.
I am a long-time member of AIGA (the professional association for design) and have served on the board of the Orange County chapter in recent years. I've lectured on art and design at various conferences, and hold an MFA from California State University, Los Angeles.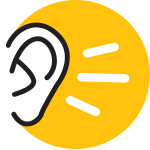 Step 1: Listen
Step 1 is to listen carefully to what the client has to say and learn the client's needs. By listening and asking questions, we can find the best way to accomplish the client's goal within the available budget.
We write up a Creative Brief (CB), which outlines the goals of the project, the project schedule, specs, mandatories (logo, phone number, etc.), and any other information that may be useful.
The CB is sent to the client for approval or revisions, if needed.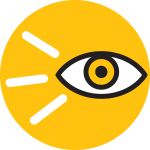 Step 2: Research
Next we learn as much as we can about this project. We research the client, the competition, the product (or event, or service). Who's the target audience? What's worked in the past? What hasn't? What are we seeing in the marketplace, so that we can do something different, original? (Different and original get noticed; "same-old" doesn't.) In short, we're trying to get as much potentially useful information as possible.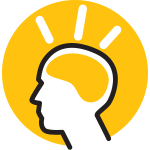 Step 3: Think
We take all that we've learned about this project, combined with our previous knowledge and experience, and think about it. Then we work up concepts that will be the most effective, and offer the biggest bang for our client's buck.
This may be the smallest Process block here, but it's the mightiest!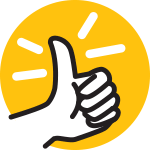 Step 4: Execute
Finally, we get down to designing. Whether it's an ad, brochure, logo, package, or TV spot, we don't start execution until we've gone through steps 1, 2 and 3. We generally mock up two or three ideas and present them to the client.
Once the concept has been approved to move forward, we start revising. As stake-holders weigh in, changes are made. This is a natural part of the process.
When the revisions are finished and the files are finalized, our project finally goes out to the world. It gets printed, launched, or broadcast. And hopefully, the client will evaluate how it does and let us know, so we can use that feedback to do an even better job for them next time.
Clients We've Worked With
B2B
BakerCorp
NetServ
Norchem
TransIntl
Financial
AIG Sun America
California Federal Bank (Cal Fed)
Riverside County Credit Union
San Francisco Fire Credit Union
SchoolsFirst Federal Credit Union
Food Services
Carl's Jr.
El Torito
LA Foods
Lucky Supermarkets
Malibu Beach Gourmet
Tu Fresh
Health Care
Beckman Coulter
Council of Accountable Physician Practices
HealthCare Partners Medical Group
Neurology and Pain Specialty Center
UCLA AIDS Institute
Publishing
GM/Izuzu Trucks
Penton Media
Museum of Art & History (MOAH)/AC Projects
NaNoWriMo
Real Estate
Arrowhead Ranch Plaza
CEL & Associates
Heinz Real Properties
Retail
MattressLand
Office Depot
ProStor
Smith+Noble
Travel/Resorts
Beverly Hilton
Caesars Palace
Disneyland Resort
Rio Hotel & Casino
Scottsdale Hilton
Princess Cruises